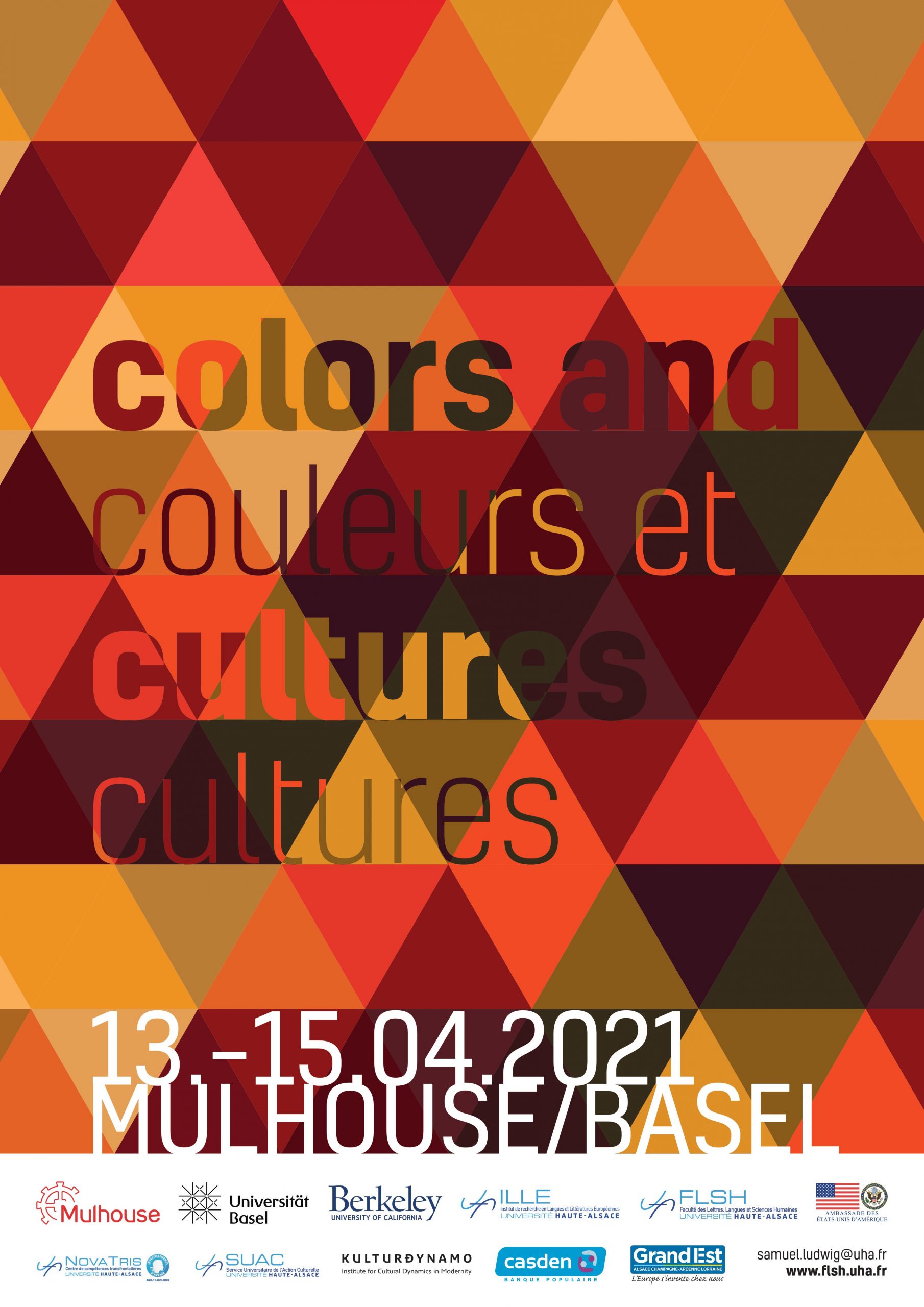 Colors and cultures / Couleurs et cultures
L'Institut de recherche en Langues et Littératures Européennes (ILLE) de l'Université de Haute-Alsace organise, du 13 au 15 avril 2021, une conférence intitulée « Colors and cultures – Couleurs et cultures« .
Ressentir les couleurs est une expérience sensorielle qui va au-delà de la perception visuelle. Les couleurs affectent directement notre humeur, notre manière de communiquer, et notre bien-être ; elles donnent forme à notre réalité. Elles peuvent aussi provoquer un certain comportement. Par exemple, quand l'équipe de football des Pays-Bas jouait à Bern lors du championnat en 2008, les fans d'Oranje ont manifesté leur enthousiasme : lorsqu'ils traversaient les rues, à chaque passage au feu orange, ils criaient de joie !
La couleur a une influence profonde sur nos vies, mais présente de nombreuses variations selon les cultures qui puisent leurs origines dans la localisation d'une région et la diversité de sa flore ou encore la qualité et nuance de la lumière… Même le mimétisme chromatique comme une manière de représenter la réalité voit d'autres couleurs être utilisées selon les cultures, alors que ce principe est universel. Ces différences culturelles peuvent aller jusqu'à la contradiction- par exemple la couleur blanche représente la pureté dans les cultures Européennes, alors qu'elle symbolise le deuil en Chine et dans les autres cultures asiatiques.
Alors que le développement et les innovations technologiques de la couleur sont en plein essor, des questions se posent sur comment la couleur est nouvellement perçue par les contacts transculturels et l'appropriation de ces nouvelles technologies. Même si elle est organisée par une majorité de spécialistes en littérature, cette conférence vise à partager des perspectives interdisciplinaires d'une variété d'approches qui analysent les différences en perceptions, réception et production de la couleur. Nous invitons aussi les analyses comparatives diachroniques qui peuvent tracer le changement dans l'approche sur la couleur à travers le temps (e.g. développement, commerce, influences dans l'éducation…), de même que les analyses synchroniques qui se focalisent sur des différences diatopiques.
Conférence organisée en partenariat avec l'Université de Bâle (Suisse) et l'Université de Californie, Berkeley (USA).
Consulter l'appel à contributions :
Consulter le programme :
Conférenciers / Speakers
Contact et inscription au colloque